Work For Us
Join the world leader in talent solutions as we prepare people, teams, and organisations to succeed in an ever-changing landscape.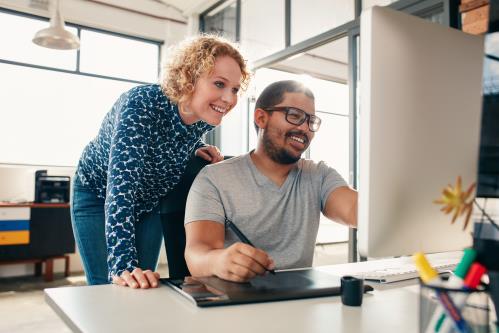 Our jobs: LHH Recruitment Solutions
Join our team
LHH is part of the Adecco Group, the world's leading workforce solutions partner. Our purpose is to empower and inspire through professional development and career opportunities. We invest in our consultants to enable them to achieve their full potential—for whatever comes next. If you join LHH, you'll be working collaboratively among teams that strive for excellence, not only for themselves, but for our clients and candidates.
Grow with us
We need people like you who are ready to change the world—one individual and one client at a time. For experienced recruiters, we will give you the autonomy to manage and grow your network in an environment of like-minded individuals where your success is not only rewarded, but celebrated.
If you are interested in starting your career in recruitment, be assured that, with LHH, a career plan and career progression are just the beginning. You will be part of something bigger, something unique and something important—where you can make a real difference.
Our people
At LHH, we have worked hard to be a culture of inclusivity and strength. Considering that our industry is all about great people, we prioritize continued investment in our people, helping them to be the best that they can be.
Working at LHH means enjoying an incredible breadth of opportunities to grow locally and globally, as well as excellent pay and benefits that only a company of our size and standing can offer. Whether you are driven to manage teams or grow your individual success through recruitment consultancy—your career path can take you in the direction you want to go. Your success will depend on your ambition, and you will find in us a supportive employer dedicated to your growth.
LHH specializes in helping professionals, senior management, and executives find the right roles across almost all sectors in permanent and interim placements. Not only do our people build lasting relationships with their clients, they also work in partnership with a spectrum of clients ranging from some of the biggest brands in the world to some remarkable charities and government organizations.
Our core values
Passion: We exist to change the world — one person at a time.
Entrepreneurship: We work hard to make "better work, better life" a daily reality.
Team spirit: We are one team, wherever we are in the world.
Customer focus: We live by and for our customers' success to be their top-of-mind and top-of-heart choice.
Responsibility: As the industry leader, we will provide more meaningful work opportunities and mobility for more people.
Join LHH as we strive to support individuals, teams and organizations to succeed in an ever-changing world. We have the scale, the expertise, and the insight to identify opportunities and to deliver them.
View current LHH Career Mobility and LHH Learning & Development career opportunities >
View current LHH Recruitment Solutions and the Adecco Group career opportunities >
Our jobs: LHH Recruitment Solutions
Do you have what it takes to be a Consultant?
As a Consultant, you need professional competence (hard skills) and social competence (soft skills). If you fulfill all the points in the list, you should consider whether the time has come for a career at LHH Recruitment Solutions .
Professional competence
You know an industry because you have a well-established education or are very experienced or have already worked as a Consultant in this industry.
You have management experience in an industry or in recruitment.
Social competence.
You communicate at a high level, can adapt in a dynamic environment and have no trouble adapting your strategy.
You work according to your own decisions.
Would you like to join LHH Recruitment Solutions? Discover all our available offers.